Mardi Gras 2017
On February 28, Council 10208 revived one of their most attended and popular events. That was, of course, the Mardi Gras Fat Tuesday dinner and dance. A special thanks for Brother and Sir Knight Danny Murphy for grabbing the bull by the horns and taking on this time consuming endeavor!
Their were two choices of food at this amazing event. Shrimp creole, prepared by Danny, and chicken and sausage jambalaya prepared by Ed Miller. Ed also donated all of the ingredients for his tasty dish. This awesome meal was topped off by red velvet cheesecake!
There was plenty of music and an open bar, so the fun went on well after dinner and into the night. This event raised about $3800 for the Knights of Columbus Council 10208 local charities! Here's to hoping this wonderful event continues for many years to come. A special thank you goes out to all of the Knight's wives, the kitchen crew, and the bartenders for making this a truly spectacular evening.
WHATEVER YOU HAVE PLANNED, DO NOT MISS THIS WONDERFUL EVENT!!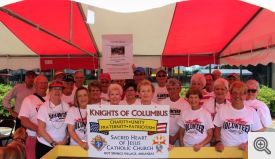 special olympics
For those of you that missed it, you missed a truly extraordinary display of the Human Spirit. Athletes from all over the state, having already won their districts, came to Searcy, AR on May 26 through 28 to compete for the best in Arkansas. Moreover, to show us all how to deal with adversity with a childlike love and enthusiasm that can only come from God..
Some 38 volunteers from Council 10208, headed by Fred and Joan Junger, came together to make this event even more memorable for these athletes by once again staging our own Olympic Town. This allowed the participants in these games to enjoy fun and fellowship with other athletes, and the volunteers, outside the field of athletic competition. There was bead making, basketball, ring toss, and bag toss, with prizes given out to everyone who participated.
Exemplification Members

What makes men want to serve others? What makes them so selfless as to sacrifice their time, talent, and treasure for the pursuit of the common good?

On Sunday February 26, twelve such men went on to their next step in this wonderful Council as they were Knighted in Hot Springs. Let us all thank God first, and then congratulate them all for giving so freely of themselves.


Pictured above are our twelve new Knights and seven other Council members that attended the ceremonials. Congratulations and best wishes to Jim Sparks, Jim Elser, Tom Conrad, Russell Clark, John Broome, Rick Darnell, Klaus Pawlik, Bob Montgomery, Gary Ruebush, Francisco Gutierez, Jerry Bielinski, and Doug Deligney. Thank you also to the Knights who honored them by attending their exemplifications.
Kitchen Crew
"The best way to find yourself is to lose yourself in the service of others".
Nothing in Council 10208, the Parish of Sacred Heart of Jesus, or this wonderful community, brings that quote by Mahatma Gandhi more to life than the Brothers that work in our Kitchen staff.
Nothing can be accomplished by this amazing Council of Brothers without the tireless efforts of this outstanding group of men, The meals are always delicious, the service top notch, and they ask for no recognition, no awards for their service.
This is just a small note from Council 10208 to say "Thank you for a job well done". Please fellow Brother Knights, take a moment at our next general meeting to thank these men for their service, knowing that it not only serves us, but every single project that we support.
ARC Charity Recipients
The Knights of Columbus State Council, l/r Paul Leonard, CPID Director; Milt Spaniel and John Rymark (photographer) representing KofC Council 10208; and Phil Savage, State Deputy who presented a $9,000 check to two of the residents at The Arc, Arkansas on Saturday, February 11, 2017.
Roy Anderle specifically invited Council 10208 representatives to attend the presentation to see the fruits of their labor to this worthy charity.
There are four, The Arc Arkansas pamphlets available, each detail separate achievements in supporting people with intellectual and developmental disabilities and their families through the arts, advocacy and education.

Food Basket Program
Thank you to all who participated in the 2016 Sacred Heart basket program! Without the many Knights that contributed money to the basket fund and shoe fund, delivered baskets, helped in getting and distributing the food from Project Hope and gave presents from the Angel Tree, we could not help our neighbors in need. A special thank you to those Knights that volunteered to deliver a basket. We had many volunteers this year. I tried to make sure everyone had he opportunity to deliver at least one basket. If I missed you I'm sorry and if you volunteer again I will try to include you for a delivery. These are a few interesting statistics:
- During the 2016 calendar year we delivered 36 baskets at Easter, 28 during the summer, 48 at Thanksgiving and 52 at Christmas for a total of 164 baskets.
- The families receiving the 164 baskets included 437 children and a total of 579 people helped.
- We received $10,050 in donations to the basket fund during 2016 and $1,478 in donations to the Village Outreach shoe fund.
- At Christmas we gave 456 presents, most of which were from the Angel Tree,and 127 shoe certificates to the children in the families receiving baskets.
- Approximately 91 volunteers delivered the baskets, many of whom delivered multiple baskets.
Thanks again for all of your support and we look forward to continuing to spread the Gospel of Christ by our actions in endeavors such as these.