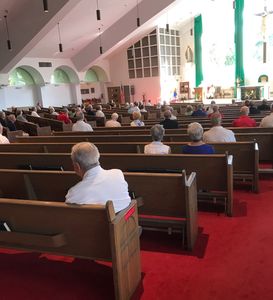 Father McGivney Mass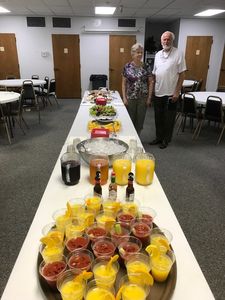 A Mass was held at 9:00 A.M. at the Sacred Heart of Jesus Church on Saturday, August 12, 2017, in honor of our Father Michael J. McGivney. Ninety-three attendees, including 39 Knights, several of their ladies, and other parishioners joined in the celebration.
The Sacristy alter area had a picture of Fr. McGivney, flowers provided by the Council, the National ensign, Vatican flag, and Knights of Columbus flag. All Lectures and Servers, the Chaplain, and three Knight Deacons participated in the Mass. Fr. Bill Elser's homily emphasized the work of the Founder and the current organizational focus upon charity and love of God.
A reception was held immediately following the Mass. Fifty-six Knights and their ladies and three Knight widows attended.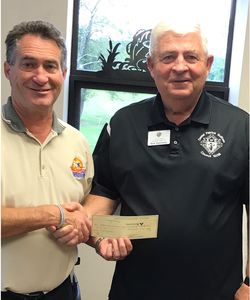 Lynn Ables Teen Challenge
On Tuesday, August 8th, Lynn Ables of "Teen Challenge" on Hwy. 7 was pleased to accept a charitable donation of $2,500 from the Knights of Columbus.
Tom Donnelly, of Council 10208 in Hot Springs Village, explained that an anonymous benefactor, donating to the Campaign for People with Intellectual Disabilities (CPID), asked if a donation for Teen Challenge would be accepted by the Knights. Of course the donation was gladly accepted, and this charitable outreach was passed along to Teen Challenge.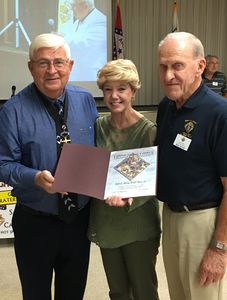 Bob and Mary Anne Honzik
Sir Knight Robert and Mary Anne Honzik. Brother Honzik was the Chairperson for the Seminarian Support Dinner; Mary Anne procured, prepared, organized, and headed the decoration detail that did such a splendid color-coordinated and beautiful set up of the tables and the hall. Bob and Mary Anne's efforts in planning and overseeing the detailed invitations and close coordination required to get the Bishop, Monsignors, and seminarians on the same sheet of music in the same place at the same time was phenomenal. They also were responsible for arranging the entertainment, caterer, menu, ticket printing, poster printing, bulletin announcements, coordination within the parish and with the chaplain, recruiting reliable folks to take on some of the burden, and overseeing each aspect necessary to pull something like this together. What an effort and what a fabulous outcome for our seminarians. Collectively, the Council raised nearly $30,000 at this event (slightly augmented by funds on hand), enabling us to present a check to the Bishop for $25,000, with another $5,000 going directly to the Diocese of Little Rock, and the parish presented another $30,000 to the Bishop.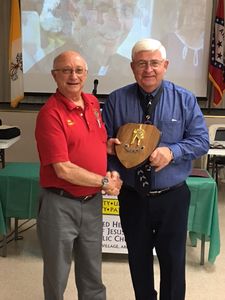 2016 Knight of the Year - Mike Frantz
Sir Knight Mike Frantz was recognized by the Council as the Knight of the Year (calendar) for 2016. Brother Frantz was nominated to represent the Council's Knight of the Year for the State Convention. Brother Frantz successes and contributions during 2016 were significant and worthy of this nomination. He was instrumental in the success of the Treasure Sale as he led the teams to coordinate and execute all the pick-ups, loading and unloading of truckload after truckload of furniture and incidentals from up all over the Village. He was an active and always reliable officer of the Council, a member of our Exemplification Team, actively participated in CPID, assisted with the parish breakfasts, was a stalwart on the Disaster Relief Team, Coordinated the Arkansas Blind Camp Bowling, participated in the Food Basket Program, Food for Seniors, participated and volunteered in the Crosses for Life effort, was a member of Helping Hands, gave over 5 gallons of blood at our blood drives, helped with cheese and sausage sales, the baby bottle campaign, helped with the Youth Free Throw Contests, and was active in Perpetual Adoration. It is with great pleasure that your Brothers recognized you as our own Knight of the Year for 2016. Thank you for all you did and continue to do, Brother Mike!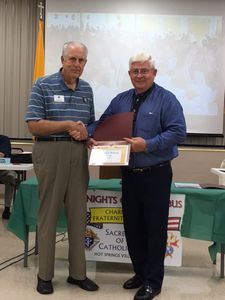 Knight of the Month Ralph Melenson
Sir Knight Ralph Melenson worked closely with the Hot Springs KofC to plan, organize, and execute the St. John's Charity Golf Tournament to raise funds for the school. Brother Melenson was integral in facilitating local business sponsorship's, recruiting teams, and many other tasks required to put on an event like this. All his hard work was key to the final results--$6,000 raised for St. John's Catholic School.
Knight of the Month Bob Bowman
Sir Knight Bob Bowman was integral to the success of the Seminarian Support Dinner on the 14th of July, 2017. He was responsible for ticket sales, table assignments, meal ordering and selection, collecting and accounting of funds, arranging for sales representatives, and volunteering before and after Masses for two weekends. Brother Bowman's attention to detail, recording, and disseminating information to all concerned contributed to the highly successful KofC endeavor and is a reflection of his commitment to the Council and it's worth charity causes.
Presenting the Knights of Columbus donation to their scholarship fund were (left to right) Milt Spaniel, Jack Barry, Bill Veal and Walter Free.
Logo acknowledging HSV Knights of Columbus as a Junior Golf sponsor.
Here is some history of Junior Golf:
The purpose of the Junior Golf Association shall be to foster, encourage, and promote junior golf activities for young golfers of both sexes between the ages of 8 through a senior in high school. The goals are to accomplish the following:
To provide opportunities for development of social, physical, emotional and mental skills.

To teach juniors real life lessons and to influence their character development and good sportsmanship.

To teach the rules and etiquette of golf.

To secure instructional practices, playing privileges and other concessions.

To develop lifelong golfers who will continue to play long after the program is over.
The idea for Junior Golf and the founder of the program was Bill Veal. He received a lot of advice and assistance from Al Wygant, Carolyn Rawlinson, Rick Ross, John Paul and many other volunteers.
The Junior Golf Program was approved by the Property Owners Association Board of Directors in 1997. The first year for the program was 1998. The program averages 290 juniors each year. There is an average turnover of 85 juniors each year. The program is open to all juniors; no juniors are turned away due to family financial hardships.


In September 1999, we received our state charter as a non-profit corporation, thanks to Merek Rowe of the law firm of Farrar, Reis, Rowe, Nicolosi and Williams who filed the necessary papers.


In December 1999, we received notification that we qualified as a 501(c) (3) thanks to Dennis Fason, CPA of the accounting firm of Jordon, Woosley, Crone, and Keaton who filed the necessary papers.


In 2005 the IRS approved a scholarship program for Junior Golf Association. As of 2013, $2,000 in scholarships have been awarded to 42 Juniors.


Jack Barry has been the President since 2002. Under his leadership, the program continues to grow and prosper.
On July 20, 2017, our Knights provided a fried chicken dinner in Little Rock for our homeless vets. We were assisted by the American Legion of HSV. Thank you 4th Degree Knights and parishioners who helped with this worthy endeavor.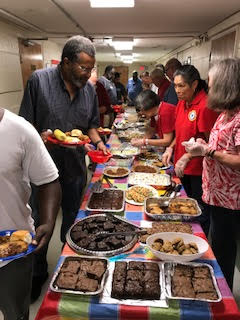 St. Francis House Dinner July 20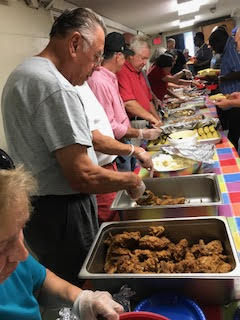 St. Francis House Dinner July 20
Blind Bowling Camp 2017
Once again, the Knights of Council 10208 who helped with this magnificent event had a great time with the campers this year. The camp hosted 68 campers with 56 of them coming to Fiesta Bowl at least once during the first four days. On the fifth day the top sixteen bowlers had a roll-off to establish who among them earned the bragging rights.
We had a good turnout of volunteers consisting of: 19 Knights, ten spouses, three relatives and also eight members of the Lion's Club.
Our event coordinator, Mike Frantz, received a "Thank You" from many of the bowlers and volunteers alike, and he offers his sincere appreciation to each and every one who contributed to this successful event.
Msgr. Malone embraces Msgr Scott Friend as he is presented papal congratulations
"In an age when so much bad news has been reported about clergy and children, Msgr. Bernard Malone has been the antithesis of such. He has been called by other names, other titles, 'Msgr. Bernard, Msgr. Barney, Msgr. Senior.' He has also been called Arkansas's answer to a leprechaun, (and) he has been called 'cute' by far more than I can recall here. "But I can tell you that time and time again he has been called a good priest, a wonderful confessor, a spiritual father to many of our seminarians and a humble priest."
As I was thinking of words to describe Monsignor Malone, I ran across these from his Nephew Fr. Francis Malone and could think of none better. Many of you know that Monsignor Malone held the first Mass in Hot Springs Village at the Callella Fire Station in 1973, for approximately 15 Village Catholics. He was that big a part of so many peoples lives here, that he played a major role in Hot Springs Village history. To many of you, he was a best friend, and someone to look up to as a way to live a life of Christ in this world.
I felt a need to write this brief article, because he was such a part of my early life as well. You see, Monsignor Malone was the first ParIsh Priest that my brothers, sisters and I were around. Our first real exposure to our Catholic Faith. What better example could anyone get than this wonderful man. He was my father's best friend, and a true friend of all of my extended family. As I lost touch with him in my career, what an amazing surprise for me to see him when I moved to Hot Springs Village!
Monsignor Malone did not treat my family and I in any special way when he was a parish priest at tiny St Mary's Parish in rural Arkansas. It was just the way he treated everyone. He was an incredible role model for everyone he was ever around, regardless of their age. The joy of Christ, a joy that surpasses all of the trials of this life, shone forever on his face and in his eyes.
Monsignor Malone, you will be forever missed. However, you will be forever in the hearts of all of the thousands of lives that you have touched. Whenever we raise a glass of wine in toast, let us all remember Monsignor is right there toasting with us. Forever an example of humility, kindness, and love of others before ourselves.