Knight of the Year Ed Doyle
This is a very special award, given to a very special individual. Not only is he a close friend and a great humanitarian, he is an indispensable part of our great Council.
Ed has been the Financial Secretary of Council 10208 for 3 years now. That is probably the most demanding job in our organization. He has to keep up with membership dues, monies designated to different projects, monies sent back and forth between our Council and State. If that weren't enough, Ed is an active participant in the CPID, the Seminarian Endowment Dinner and the Taste of Faith held each year in Little Rock. Ed was also instrumental in improving the Coats for Kids meat and cheese Sales.
Besides his many Coincil dutlies and responsibilites he is a member of the Adoration Team, a full time volunteer at Jackson House. He also calls Bingo on Wednesday for the people at the Good Samaritan Campus.
This great honor is well deserved, so please congratulate Brother Ed when you see him.
Tom Donnelly
Let us all congratulate Tom Donnelly, for being selected the 2016 Knight of the Year.
Tom is an exemplary Knight, and an even better man, and it is truly an honor to be able to call him a Brother in Christ.
Tom joined Council 10208 in 1999, and has served as Program Director, Deputy Grand Knight and is currently Grand Knight for the 2016-2017 Fraternal Year. He is active in the CPID program, Disaster Relief Team, and Habitat for Humanity build Team. Tom logged over 900 Volunteer hours last year alone, in support of the many endeavors for this Council.
We have all enjoyed the wonderful meals that Tom has prepared for such events as the St Patrick's Day Dinner, Fall Fest, St Nicholas, and many others. His help and expertise in dealing with St Francis House is invaluable.
Tom is also a fixture at the State Special Olympics held each year at Harding University in Searcy, where he assists in the set-up and running of the Councils now famous Olympic Town. He is a great recruiter of volunteers, keeping us all entertained and enjoying what we are doing.
Thank you Tom, for all that you do to make Council 10208 the best Council in the State.
Semper Fi !!
Grand Knight Bob Honzik presenting award to Milt and Janice Spaniel
Milt has been recognized by the Knights of Columbus for his efforts including: Knight of the Year Award recipient from the Arkansas State Council in 2004, Knight of the Month for Council 10208 - 8 times; Knight of the Year - 2 times; and, Knight of the Year candidate to the Arkansas State Council in 2015.

Milt has served as the Council's Community Director for the past five years with 14 chairmen for the 19 programs.

His organizational abilities and his talent for motivating people have been largely responsible for the success of the programs under his purview.
One of the highlights of Milt's service has been the great success of the

Campaign for People with Intellectual Disabilities

(CPID). His dedication to the five Charities recipient organizations has brought immeasurable good will to the council and to the Knights of Columbus in general.  With

Milt's leadership over the five years and 175 volunteer Knights and spouses involved, starting in 2010 with $6,000 the first year, the amounts per year have increased each year to $23,359 in 2014. T

he

financial progress continued increasing over the past five years is reflected in the total funds raised of $73,000. During these five years there were significant Knights personal donations of $5,575 from 121 Knights in 2014.
Milt also chaired the business portion of CPID by coordinating the efforts of 17 solicitor Knights personally contacting 97 local and area businesses. They received donations from 74 businesses that amounted to a 256% increase from $390 in 2010 to $10,000 in 2014. Significantly, many of the businesses contacted by Milt and his staff had little if any knowledge about the Knights of Columbus. Favorable results can be judged by the willingness of the number of businesses initially from a few willing to donate $250 to 30 donors in 2014. Recognition in the Voice in two full page ads have been of tremendous help 
Milt Spaniel and his wife, Janice, have also been exemplary parishioners and are very active in Sacred Heart of Jesus Catholic Church, as they participate in its many worship and social activities. They are weekly Perpetual Eucharistic Adoration adorers at both Sacred Heart and at St. Vincent's Hospital. Janice sings in the choir and is a co-chair of the All Saints Guild.
Milt Spaniel leadership is certainly

not his only charitable endeavor as

Director for the Campaign for people with Intellectual disabilities as he has

:
- has been a grant writer who has netted $3,500 from Walmart.
- assisted in recruiting volunteer Knights and spouses to help operate Olympic Town at the Arkansas Special Olympics in Searcy.
- co-founded the Petit Jean Ham Sales fundraiser in 2006 and works the project every year
- manages volunteers to call Friday evening bingo at Good Samaritan Home.
- works for the annual distribution of food and gifts to local families in need.
- delivers food from the Rice Depot in Little Rock to eight families in Hot Springs
- volunteers as a fundraiser and instructor for the Junior Golf program (12 years).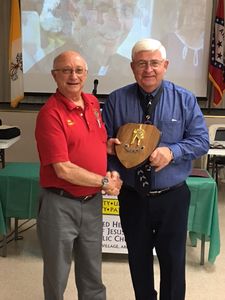 2016 Knight of the Year - Mike Frantz
Sir Knight Mike Frantz was recognized by the Council as the Knight of the Year (calendar) for 2016. Brother Frantz was nominated to represent the Council's Knight of the Year for the State Convention. Brother Frantz successes and contributions during 2016 were significant and worthy of this nomination. He was instrumental in the success of the Treasure Sale as he led the teams to coordinate and execute all the pick-ups, loading and unloading of truckload after truckload of furniture and incidentals from up all over the Village. He was an active and always reliable officer of the Council, a member of our Exemplification Team, actively participated in CPID, assisted with the parish breakfasts, was a stalwart on the Disaster Relief Team, Coordinated the Arkansas Blind Camp Bowling, participated in the Food Basket Program, Food for Seniors, participated and volunteered in the Crosses for Life effort, was a member of Helping Hands, gave over 5 gallons of blood at our blood drives, helped with cheese and sausage sales, the baby bottle campaign, helped with the Youth Free Throw Contests, and was active in Perpetual Adoration. It is with great pleasure that your Brothers recognized you as our own Knight of the Year for 2016. Thank you for all you did and continue to do, Brother Mike!
Mary Anne and Bob Honzik receiving an award from Gerald Krawczynski.
Bob's income producing years were spent with John Deere. He began in Engineering and switched to Marketing which involved considerable travel, Meeting people and living in various parts of America.
Upon retiring to the Village, Bob served on the POA Village Promotions Committee, Chamber of Commerce, Stewardship for the Parish, the A & E Building Committee and fundraising for the addition.
About a year ago, Bob accepted a five-year appointment by the Bishop as a Director on the Board of the Diocesan Seminarian Fund.
Bob and Mary Anne became acquainted with Fr. Mike Hinken during one of his visits to the Village. Fr. Mike was doing Missionary work in Honduras. Fr. Mike sent Bob photos of a Lencan Indian girl that was born without a left arm and left leg. Bob and Mary Anne started the "Walking with Karen" fund. Bob asked the Knights for financial assistance at which time it was suggested that "He Become a Knight"!
Fr. Hinken brought Karen to America with only the clothes on her back. She lived with the Honzik's as the Shrine Hospital in Shreveport, LA developed prostheses and taught her to walk. Bob and Mary Anne flew Karen back to Honduras after her first visit here which was for a month, and they witnessed her parents seeing her walk for the first time.  Karen returned to Hot Springs Village every other year for seven years. The "Walking With Karen" fund also provided her with a Catholic education.  Karen is now in the Mountain Village of San Bartolo teaching school.
MARY ANNE
Upon retiring form a career as Administrative Assistant, and moving to the Village, Mary Anne                       also worked on several committees of interest to her.  She has worked with the POA in getting more people acquainted with the Village and retiring here. She worked with the Chamber of Commerce, was President of the Village Community Foundation, has been on the Pastoral Committee; a Server and Eucharistic Minister and also served on the A & E Building Committee.   She is on a decorating committee for special holidays in the parish and is an Associate Member of the Ladies of Sacred Heart and a member of the Hot Springs Village Garden Club. She assists with various activities throughout the parish where an extra pair of hands is needed. She sends, get well cards, birthday cards and prepares a meal for some of the parishioners recovering from surgery
She greatly enjoys working in their landscape, helping Bob with his programs and caring for their 4-year-old Standard Poodle.