Rick and his wife Sandy Darnell moved to the Village in December 2015, from Scottsdale, Arizona. One of the things Sir Knight Rick never had time for during his working career was to join the Knights of Columbus. He was quite pleased to find such a large and active group at Sacred Heart of Jesus Parish.
Family of the Month Dec 2017
Sir Knight Rick Darnell began his Knights of Columbus journey on December 6, 2016 followed by 2nd and 3rd Degree exemplification on February 26th, 2017. He became a Sir Knight on June 3rd, 2017. Since joining us both Rick and Sandy have been extremely active, supporting many of our activities and taking the lead in planning and arranging the Honey Baked Ham initiative, the Christmas Wreath initiative, and the Domino Pizza initiatives. Both Rick and Sandy spent several days doing "point of sale" contacts before and after Masses in November and December. We appreciate their efforts, enthusiasm, meticulous attention to detail, and the numerous volunteer hours dedicated to raising funds for our charities. Rick has indicated he will soon assume the Program Director responsibilities for the Council, after a turn-over period with Tony Cifelli who has done an outstanding job for several years. It is a pleasure for the Council to present this Family of the Month certificate to the Darnell's.
Bill and Mary Lou George - September 2017 Family of the Month
Our family of the Month is the Georges, Brother Bill and Mary Lou. There are many Knight's and their ladies constantly serving this Council in countless ways. Sometimes we need to stop and consider their tremendous value to our Council and to let them know how much we appreciate their efforts. They are our "go to" folks, always willing to pitch in and help with whatever activity is at hand and requiring volunteerism.
Bill participates in the Campaign for People with Intellectual Disabilities, he's active in the Men's Club, ushers at the 8:00 AM Sunday Masses, and serves as our Council's Community Director overseeing 16 venues and most revenue generating events. There are so many Parish Life, Knight, LOSH and other events Bill and Mary Lou participate in, I can't begin to list them all without omitting some.
Brothers and Sisters, it is a pleasure to recognize the Georges for their long-standing support of our Council, our parish, and to recognize them as an exemplary family of the month for September.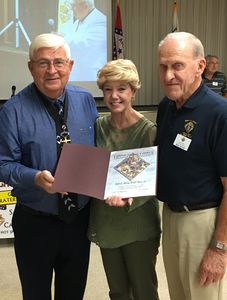 Bob and Mary Anne Honzik
Sir Knight Robert and Mary Anne Honzik. Brother Honzik was the Chairperson for the Seminarian Support Dinner; Mary Anne procured, prepared, organized, and headed the decoration detail that did such a splendid color-coordinated and beautiful set up of the tables and the hall. Bob and Mary Anne's efforts in planning and overseeing the detailed invitations and close coordination required to get the Bishop, Monsignors, and seminarians on the same sheet of music in the same place at the same time was phenomenal. They also were responsible for arranging the entertainment, caterer, menu, ticket printing, poster printing, bulletin announcements, coordination within the parish and with the chaplain, recruiting reliable folks to take on some of the burden, and overseeing each aspect necessary to pull something like this together. What an effort and what a fabulous outcome for our seminarians. Collectively, the Council raised nearly $30,000 at this event (slightly augmented by funds on hand), enabling us to present a check to the Bishop for $25,000, with another $5,000 going directly to the Diocese of Little Rock, and the parish presented another $30,000 to the Bishop.