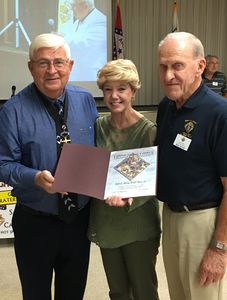 Bob and Mary Anne Honzik
Sir Knight Robert and Mary Anne Honzik. Brother Bowman was the Chairperson for the Seminarian Support Dinner; Mary Anne procured, prepared, organized, and headed the decoration detail that did such a splendid color-coordinated and beautiful set up of the tables and the hall. Bob and Mary Anne's efforts in planning and overseeing the detailed invitations and close coordination required to get the Bishop, Monsignors, and seminarians on the same sheet of music in the same place at the same time was phenomenal. They also were responsible for arranging the entertainment, caterer, menu, ticket printing, poster printing, bulletin announcements, coordination within the parish and with the chaplain, recruiting reliable folks to take on some of the burden, and overseeing each aspect necessary to pull something like this together. What an effort and what a fabulous outcome for our seminarians. Collectively, the Council raised nearly $30,000 at this event (slightly augmented by funds on hand), enabling us to present a check to the Bishop for $25,000, with another $5,000 going directly to the Diocese of Little Rock, and the parish presented another $30,000 to the Bishop.
Terry and Jo Ann OBrien

We are proud to announce our July, 2017 Family of the Month is Terry and JoAnne O'Brien. When it comes to decorating, setting up for events, arranging center pieces, setting tables, putting on chair covers, laundering table and chair linens, assisting with the deserts, and a plethora of other tasks so necessary to make events a success, you'll always find the O'Brien's in the thick of things.
Terry is a former Mardi Gras chairman, worked the kitchen for Council Meetings for many years, is active on the Disaster Relief Team, participates in perpetual adoration, attends and is active in both the 3
rd
and 4
th
Degree, a member of the Men's Club, and helps and has served many parish committees.
JoAnne has been on the Church Decorating Committee for many years, a 5 time St. Monica Guild Captain, a 5-year Chairperson of the LOSH Annual Fashion Show, a 4-year Chairperson of the Christmas Cookie Sales, headed the Parish Life Committee for 2 years, is a former vice president and president of the Ladies of the Sacred Heart, and her words to me: "I love to help wherever needed." What a wonderful couple and wonderful family!
Fred and Jean Jungers
The June 2017 Family of the Month is Fred and Jean Jungers. This family is always willing to pitch in for whatever they are needed to do for Council 10208. Last year Fred and Jean undertook a labor of love that has not only put our Council on the map nationally, but has changed the lives of so many people with special needs. I am talking, of course, about the Special Olympics and more specifically our Councils Olympic Town. They do everything from recruiting volunteers, to making sure all volunteers have a place to stay, to making sure we have a delicious meal after the Friday night celebration of the Mass. This is truly a year round job, as planning for the nexts years Olympics start as soon as the prior year is over. They truly have done an outstanding job and we hope that they remain in their posisions for many years to come.
Let us congratulate this exemplary Family for their service to our Parish, Council, Community, and State.