WHATEVER YOU HAVE PLANNED, DO NOT MISS THIS WONDERFUL EVENT!!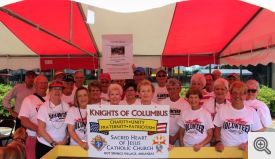 special olympics
For those of you that missed it, you missed a truly extraordinary display of the Human Spirit. Athletes from all over the state, having already won their districts, came to Searcy, AR on May 26 through 28 to compete for the best in Arkansas. Moreover, to show us all how to deal with adversity with a childlike love and enthusiasm that can only come from God..
Some 38 volunteers from Council 10208, headed by Fred and Joan Junger, came together to make this event even more memorable for these athletes by once again staging our own Olympic Town. This allowed the participants in these games to enjoy fun and fellowship with other athletes, and the volunteers, outside the field of athletic competition. There was bead making, basketball, ring toss, and bag toss, with prizes given out to everyone who participated.
On Friday, Fr. Elser celebrated a special Mass for all of the Council 10208 volunteers. Afterwards, was a reception and social hour, with catering by the Harding University catering crew. It was a delicious meal of chicken parmesan, green beans, potatoes, rolls and (for some people) multiple deserts.
Everyone had an amazing time, as the participants in these games enriched the lives of the volunteers in ways that will never be forgotten. What an amazing opportunity to serve Christ, by serving these special people who truly see the Kingdom of God with childlike enthusiasm, just as we are all called to do!
| | |
| --- | --- |
| He shoots; he scores!! | Photo Finish! |
| Medals Ceremony | Council10208 Volunteers |