Knight of the Month Gerald Krawczynski
Last April, Sir Knight Gerald Krawczynski celebrated 50 years as a Knight of Columbus. He has been a member of this Council for over 17 years. After retiring from the Supreme Council Agency in 2007, he became more involved with the State and local Knights' activities. He was recognized as Agent of the Year by the Supreme Council for 2004 and 2005. Sir Knight Krawczynski served as Arkansas State Council Fund Raising Director from 2007 to 2012, and as the State Warden from 2008 to 2010. He was recognized and Awarded the State Knight of the Year in 2014.
Gerald is a member of the Arkansas State Council Fourth Degree Exemplification Team, and the District 10 Second Degree Team. He's currently our Council's Family Director and the State's Pennies from Heaven Director and serves on our Council's 1st Degree Team. Gerald participates as a member of the Fourth Degree Honor Guard in our local Assembly, served as our Council's Financial Secretary from 2012 to 2015, and was our Council Treasurer from 2015 to 2017. Currently he's our Council's Family Director, generates our certificates and proclamations, serves as an Extraordinary Minister and a Lector for the parish, and participates in and helps with the administration of our Perpetual Adoration Program.
Gerald credits his membership and activities in the Knights of Columbus as one of his major accomplishments in his lifetime. Throughout his journey as a Knight he has had the wonderful support of Ann, his loving wife of 56 years. We're honored to have such a dedicated Knight in our Council and it's a pleasure to present Gerald with our Knight of the Month of September Certificate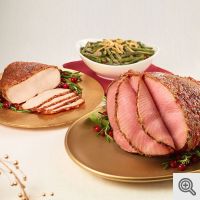 Honeybaked ham
Council 10208 of the Knights of Columbus is announcing an exciting NEW way to provide Coats for Kids in our community and enjoy delicious ham products for the Thanksgiving and Christmas seasons. We have partnered with Honey Baked Hams to initiate a 90-day fundraiser program of selling gift cards that can be redeemed for any Honey Baked Ham product offered in their nationwide stores or redeemed online at their website. From now through January 1, 2018, anyone can order online through our local Knights of Columbus web address:
www.honeybakedfundraising.com/fundraisers/knights_of_columbus_sacred_heart_of_Jesus
.
Purchase a GIft Card ($10, $25, $50, $100) using the website address listed above, and Council 10208 will received 20% of the value of all gift cards purchased during the 90-day period. Gift cards can be paid for with your credit card and will be mailed directly to your home. They can also be given as gifts during the holiday season or redeemed by you from the company website:
www.honeybakedhams.com
as payment toward any ham and turkey product. Knights will also have Gift Cards for sale before and after weekend Masses this fall for those without computer access. We have only 90 days to raise over $2,000 to pay for Coats for Kids. Call Russ Harrison at 501-276-7837 with questions.
Murray Claassen - August 2017 Knight of the Month
Murray Claassen became the Council Treasurer in July, 2017. Murray, as you all may remember, received the Shining Armor Award last year—one of only four ever received by this Council—for his first year's efforts as a Knight. Murray is now managing the CPID spreadsheets for Knight's donations and Tootsie Roll volunteers. He recently attended the State Training seminar in Arkadelphia and attended the State Convention this year as a Council representative. He came to the organization, melded to the culture, and assumed a leadership position. His hard work, attention to detail, and often daily dedication of time and energy is both challenging and commendable.
Congratulations, Murray for your well deserved recognition for the impact your actions have had in the Council.
Bill and Mary Lou George - September 2017 Family of the Month
Our family of the Month is the Georges, Brother Bill and Mary Lou. There are many Knight's and their ladies constantly serving this Council in countless ways. Sometimes we need to stop and consider their tremendous value to our Council and to let them know how much we appreciate their efforts. They are our "go to" folks, always willing to pitch in and help with whatever activity is at hand and requiring volunteerism.
Bill participates in the Campaign for People with Intellectual Disabilities, he's active in the Men's Club, ushers at the 8:00 AM Sunday Masses, and serves as our Council's Community Director overseeing 16 venues and most revenue generating events. There are so many Parish Life, Knight, LOSH and other events Bill and Mary Lou participate in, I can't begin to list them all without omitting some.
Brothers and Sisters, it is a pleasure to recognize the Georges for their long-standing support of our Council, our parish, and to recognize them as an exemplary family of the month for September.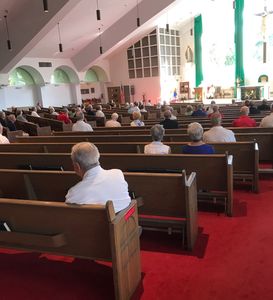 Father McGivney Mass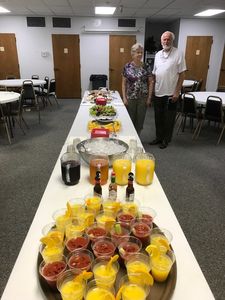 A Mass was held at 9:00 A.M. at the Sacred Heart of Jesus Church on Saturday, August 12, 2017, in honor of our Father Michael J. McGivney. Ninety-three attendees, including 39 Knights, several of their ladies, and other parishioners joined in the celebration.
The Sacristy alter area had a picture of Fr. McGivney, flowers provided by the Council, the National ensign, Vatican flag, and Knights of Columbus flag. All Lectures and Servers, the Chaplain, and three Knight Deacons participated in the Mass. Fr. Bill Elser's homily emphasized the work of the Founder and the current organizational focus upon charity and love of God.
A reception was held immediately following the Mass. Fifty-six Knights and their ladies and three Knight widows attended.