Murray Claassen - August 2017 Knight of the Month
Murray Claassen became the Council Treasurer in July, 2017. Murray, as you all may remember, received the Shining Armor Award last year—one of only four ever received by this Council—for his first year's efforts as a Knight. Murray is now managing the CPID spreadsheets for Knight's donations and Tootsie Roll volunteers. He recently attended the State Training seminar in Arkadelphia and attended the State Convention this year as a Council representative. He came to the organization, melded to the culture, and assumed a leadership position. His hard work, attention to detail, and often daily dedication of time and energy is both challenging and commendable.
Congratulations, Murray for your well deserved recognition for the impact your actions have had in the Council.
Bill and Mary Lou George - September 2017 Family of the Month
Our family of the Month is the Georges, Brother Bill and Mary Lou. There are many Knight's and their ladies constantly serving this Council in countless ways. Sometimes we need to stop and consider their tremendous value to our Council and to let them know how much we appreciate their efforts. They are our "go to" folks, always willing to pitch in and help with whatever activity is at hand and requiring volunteerism.
Bill participates in the Campaign for People with Intellectual Disabilities, he's active in the Men's Club, ushers at the 8:00 AM Sunday Masses, and serves as our Council's Community Director overseeing 16 venues and most revenue generating events. There are so many Parish Life, Knight, LOSH and other events Bill and Mary Lou participate in, I can't begin to list them all without omitting some.
Brothers and Sisters, it is a pleasure to recognize the Georges for their long-standing support of our Council, our parish, and to recognize them as an exemplary family of the month for September.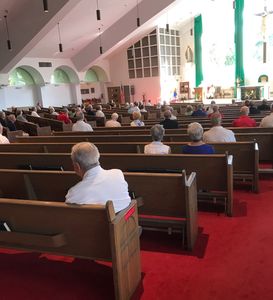 Father McGivney Mass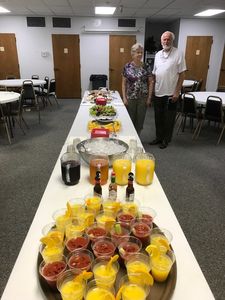 A Mass was held at 9:00 A.M. at the Sacred Heart of Jesus Church on Saturday, August 12, 2017, in honor of our Father Michael J. McGivney. Ninety-three attendees, including 39 Knights, several of their ladies, and other parishioners joined in the celebration.
The Sacristy alter area had a picture of Fr. McGivney, flowers provided by the Council, the National ensign, Vatican flag, and Knights of Columbus flag. All Lectures and Servers, the Chaplain, and three Knight Deacons participated in the Mass. Fr. Bill Elser's homily emphasized the work of the Founder and the current organizational focus upon charity and love of God.
A reception was held immediately following the Mass. Fifty-six Knights and their ladies and three Knight widows attended.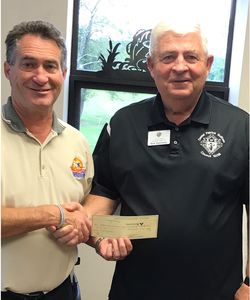 Lynn Ables Teen Challenge
On Tuesday, August 8th, Lynn Ables of "Teen Challenge" on Hwy. 7 was pleased to accept a charitable donation of $2,500 from the Knights of Columbus.
Tom Donnelly, of Council 10208 in Hot Springs Village, explained that an anonymous benefactor, donating to the Campaign for People with Intellectual Disabilities (CPID), asked if a donation for Teen Challenge would be accepted by the Knights. Of course the donation was gladly accepted, and this charitable outreach was passed along to Teen Challenge.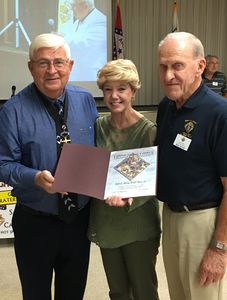 Bob and Mary Anne Honzik
Sir Knight Robert and Mary Anne Honzik. Brother Honzik was the Chairperson for the Seminarian Support Dinner; Mary Anne procured, prepared, organized, and headed the decoration detail that did such a splendid color-coordinated and beautiful set up of the tables and the hall. Bob and Mary Anne's efforts in planning and overseeing the detailed invitations and close coordination required to get the Bishop, Monsignors, and seminarians on the same sheet of music in the same place at the same time was phenomenal. They also were responsible for arranging the entertainment, caterer, menu, ticket printing, poster printing, bulletin announcements, coordination within the parish and with the chaplain, recruiting reliable folks to take on some of the burden, and overseeing each aspect necessary to pull something like this together. What an effort and what a fabulous outcome for our seminarians. Collectively, the Council raised nearly $30,000 at this event (slightly augmented by funds on hand), enabling us to present a check to the Bishop for $25,000, with another $5,000 going directly to the Diocese of Little Rock, and the parish presented another $30,000 to the Bishop.